Montserrat Boardriders Club & Surf Villa

  The Island

Montserrat: 'The Way the Caribbean Used to Be'

That slogan, conjured up by some Madison Avenue exec, is truly an accurate moniker for Montserrat. A British Crown Colony in the Leeward Island chain of the West Indies, Montserrat is also referred to as the 'Emerald Isle of the Caribbean'.

From many islands to choose from, Montserrat was selected by famed Beatles producer Sir George Martin as the site for Air Studios, a state-of-the-art recording complex he designed & built in the late 70's.

By virtue of its famous founder, Air Studios Montserrat attracted a large number of world-famous recording artists, including Sir Elton John, The Rolling Stones,            The Police, Dire Staits, Eric Clapton, and Sir Paul McCartney. Situated atop an idyllic hill overlooking the Caribbean Sea, Air Montserrat was a sprawling complex comprised of a large living room, pantry, entertainment room, swimming pool, and game room.    The studio itself housed the very best recording equipment available at that time.

Perhaps the biggest draw for the roster of music stars who traveled to Montserrat to record their albums was that they could roam the Island in virtual anonymity.            A mere 39 square miles in measure with a population of approximately 12,000, the Island was also fairly remote and definitely off the beaten path. Moreover, this was the pre-paparazzi era and the majority of Montserrat's natives were oblivious to the notoriety of these music luminaries. It was not uncommon to see Sting running the Belham Valley Golf Course in the late afternoon, or all the members of The Rolling Stones assembled at a poolside table at the Vue Point Hotel. It is unfortunate that   Air Studios Montserrat closed its doors in 1997, due, in part, to volcanic eruptions   but also because of the advent of the digital age for the recording industry.

The Emerald Isle of the Caribbean is truly a gem of a place, a veritable retreat for the mind & soul. The people of Montserrat are renowned for their friendly demeanor and hospitality. It's a place where drivers wave at one another as they pass each other on the roads. It's not uncommon to see a villager or two atop their donkeys as they travel from their villages to & from their farms. Goats and sheep are also commonly spotted along the scenic roads which wind through this strikingly green island.

Montserrat has some of the best drinking water in the Caribbean, with spring water straight from the tap. Above all, the Island is a place of peace & tranquility.

At night, a symphony of crickets and tree frogs provide the sound-track to the seemingly choreographed dance of fire-flies flitting about the night sky.

Montserrat has no large resorts and there are no big box stores on the Island.   Grocery shopping usually entails several stops at different shops to find everything   on one's list. Gary recalls a particularly amusing episode: "I remember once searching the Island for velcro. After some investigative work, I discovered that a small sundries store in Plymouth had the item I needed. When I asked the owner about the adjoining strip of velcro which was missing from the roll, he told me another shop two villages away had that part of the velcro." Seems that both shop owners had ordered velcro but only one roll had been shipped from their supplier in Miami. Rather than divide both sides of the velcro evenly, they each took the opposing strip! "It seemed absurd but was actually a stroke of genius as it helped these two shop owners (who happened to be cousins) refer each other business," chuckles Gary.

Though the language spoken on Montserrat is English, the Montserratian dialect is seasoned with the charm of Irish brogue, steeped in West Indian vernacular. The Island has always been a safe haven. To wit, it is a place where police carry no firearms and crime is generally limited to domestic disputes and minor squabbles. People rarely if ever lock their homes and car windows are left down with keys     

in the ignition.

As evidenced by the tremendous disasters wrought by Hurricane Hugo in 1989 and  The Volcano in 1995, Montserratians are a resilient and resourceful people. They are very proud of their native land and loyal to their Island.The people of Montserrat are quick to give of themselves and show kindness to visitors but do not appreciate the pushy, demanding attitudes often associated with big city life. Though Montserrat is not a third-world country, it is decidedly unhurried and in many ways a throw-back compared to the frantic pace of life in the U.S. and many other countries.

The Island's landscape is dotted with churches of various denominations. Rum shops, which also carry essential items like evaporated milk, bread, crackers, sweets & sodas are also in abundance. As is the case with all islands of the Caribbean, calypso and soca is the music of choice in Montserrat. In point of fact, the Emerald Isle's own Alphonsus 'Arrow' Cassell wrote the famous 'Hot Hot Hot', a hit song which has been widely used in television commercials and movies. Though 'Arrow' passed away in 2011, his legacy as a prolific songwriter will live on.

The entire month of December is Carnival on Montserrat, with an array of calypso shows, festivals and much celebration, culminating with 'Old Year's Night' (aka, 'New Year's Eve'). For the most part, however, entertainment on the Island is limited to small pubs, a few restaurants & nightclubs, and cocktail & dinner parties.

Still, 'liming' (or 'chilling out', relaxing, socializing) with friends is a way of life in Montserrat, as it is on many Caribbean islands.

Montserrat is an outdoorsman's paradise. The Island boasts excellent hiking and mountain biking opportunities, as well as eco-tourism tours into the rainforests      and Volcano area. Apart from great waves several months each year, Montserrat's beaches are pristine with great swimming, snorkeling, kayaking, and diving.

We predict that Stand Up Paddleboarding will be the next big thing on the Island.

* The Island of Montserrat is on the cusp of a concerted revitalization effort.

Traveling to Montserrat

From the U.S. and Canada, the usual route is Miami to Puerto Rico and on to Antigua or St. Maarten. From there its a short island hop to Montserrat. Ferry service has resumed from Antigua to Montserrat, which makes for a nice alternative to flying.

From Europe, the hub would be New York or Miami, and then onto one of aforementioned connecting islands.Travel visas are not required for U.S., Canadian, or British travelers, though current passports are necessary.

Montserrat's Surf Spots

Belham Valley Rivermouth: Though this spot is 'Temporarily Out of Order',   it's fitting for it to be awarded top honors on this list as it was Montserrat's Crown Jewel of surf breaks. From 1980-1995, this was the premiere wave on the Island for the Robilotta Brothers. Sadly, the several pyroclastic eruptions of the Soufriere Hills Volcano severely altered Belham Valley's estuary, resulting in a large delta being formed over the river-rock reef.

We are hopeful that the break will be naturally restored to its former glory, though it may be some time before this happens.

Rendezvous Bay: An amazing wave that begins to break at about 4-5' and  can hold big swells, this right hand point/reef on the Island's upper west side is located at the site of Montserrat's only white-sand beach. Long rides a la Second Point Malibu! [Breaks October-April]. Prevailing winds are side/offshore. Hike or boat in from adjacent Little Bay.

Bullwinkle's: A remote reef break situated on the leeward coast between Woodland's Beach and Bunkum Bay. This is a perfect hollow wave which breaks over sharp elk-horn coral. Really fun in the 3-5' range. Not for the faint-of-heart but the half-mile+ paddle required to access the break will leave the adventure-minded surfer well-satisfied. [Breaks October-April]. Prevailing winds are offshore.

Woodlands Beach: A freakish side-winding wave which forms when incoming swells bounce off the high cliff wall on the south-end of the Beach and promptly rebound to the north, culminating in an explosion of water as the back-wash meets the next incoming swell. Heaps of fun on a body board or body-surfing! [Breaks October-April]. Prevailing winds are side/offshore.

Lime Kiln Bay: Montserrat's closest thing to a beach break though it is actually a rocky-sandy reef break. Another right-hander on the west side which peels for a good distance. A fun wave with a good wall.

[Breaks October-April]. Prevailing winds are offshore.

Pelican Point: One of the most accessible waves on the Island which also happens to be one of the best spots on Montserrat. Situated at Old Road Bay at the site of the old Vue Point Hotel and a mere 4 minute walk from the Boardriders Surf Villa, this spot was actually improved by volcanic activity by extending the reef. The resulting wave is a long right point break with hollow sections and fun walls. It will hold good shape to 8', possibly bigger. [Breaks October-April]. Prevailing winds are offshore.

Bransby Point: A helluva wave reminiscent of Maui's famed Honolua Bay.      A long point break with perfect rights that peel for 100+ yards. Thick and hollow. [Breaks October-April]. Prevailing winds are offshore.

Trants Bay: Fun to excellent reef break on the Island's windward coast, adjacent to the former airport. Waves range from 2-8'+. Usually peaky     and somewhat mushy but can be lined-up and perfectly glassy with barrels  during 'Christmas Wind' days (equivalent to 'Kona Winds' in Hawai'i).   [Breaks year-round]. Prevailing winds are onshore.

Spanish Point: Another excellent reef break on Montserrat's windward side. This wave offers both rights & lefts in a bay which can really turn on with 'Christmas Winds'. [Breaks year-round]. Prevailing winds are onshore.

Pepper Point: Named after our missionary friend Lynn Stevenson, this spot  is one of just a couple of bonafide left breaks on Montserrat. An incredibly fun wave, especially during 'Christmas Wind' days. Located on the windward coast,it is a trek to get to but well worth the journey. Hot tip: beware of spiny sea urchin which litter the inside reef, resulting in a painful

'peppering' of the feet for the hapless. [Breaks year-round].

Prevailing winds are onshore.

The foregoing spots are breaks Gary & Carrll pioneered and surfed regularly during their thirteen years on Montserrat. There is a strong likelihood that The Volcano's pyroclastic flows have created some new and possibly excellent breaks around the south west and south east coasts of the Island. Savvy surf travelers would do well with hiring a boat captain to tour both sides during the summer months for possible south swell breaks.

The windward side of the Island generally breaks year-round with surf ranging from sloppy to fun to excellent, depending on wind direction.      The autumn-spring season can produce excellent waves on Montserrat's leeward coast. Swells that originate in the northeastern seaboard are fine-groomed as they filter through the island chain and produce perfect waves by the time they reach the Emerald Isle. As with every other surf destination, however, Montserrat can have its flat spells. Fortunately, there is great kayaking, SUP touring, hiking, and mountain biking available for members of the Montserrat Boardriders Club to enjoy!

Incidentally, there are no surf shops on Montserrat, so bringing your surf essentials is a good idea. The water is a toasty 78-80 degrees year-round,   so wetsuits are not needed, though a rash-guard is a good idea. Booties are optional.

Apart from a full quiver of boards to choose from, the Montserrat Boardriders Surf Villa will have a good supply of wax & spare leashes for    its members!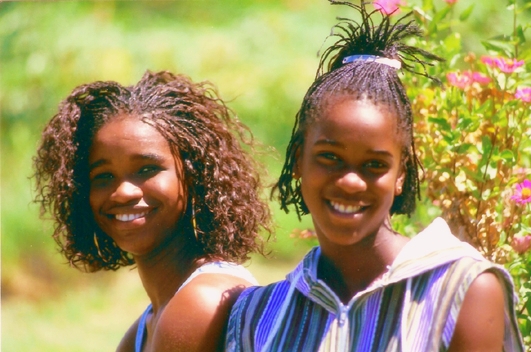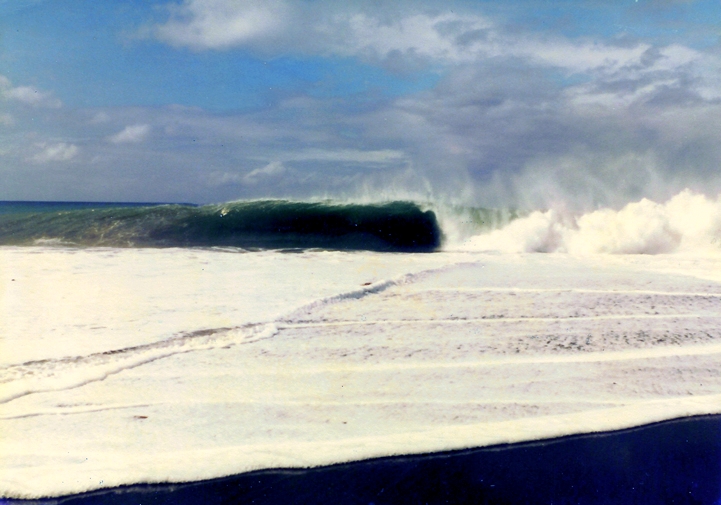 Jumbie Beach shorebreak...heavy!

Warm smiles abound in Montserrat

'Jungle Junge' ~ composed, performed, & produced by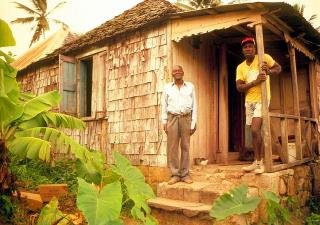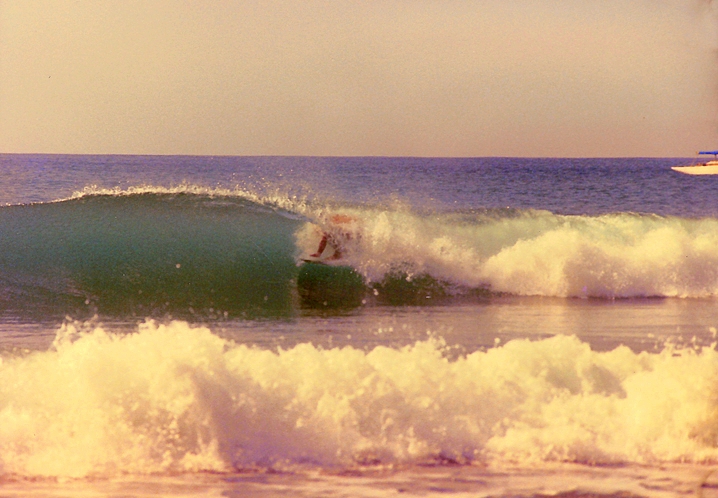 Jungle house in Harris Village

Gary hiding from the noon-day sun in a Belham Valley barrel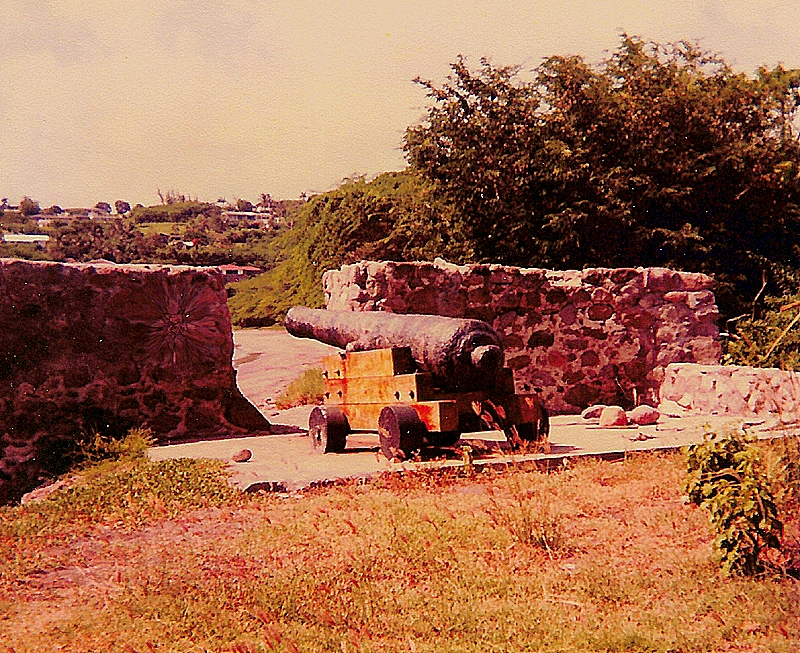 Perhaps 18th century surf pirates saw it fit to                protect the waves of Pelican Point from interlopers

*This site is audio-enhanced. Your speakers should be powered on.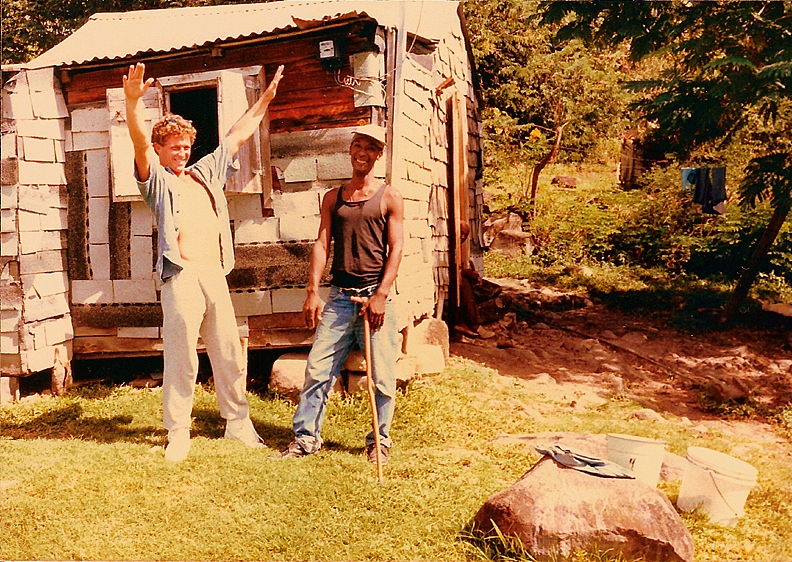 Surfer/shaper Pat Reardon liming with our friend,          the late George 'Za-Zweeky' Sweeney